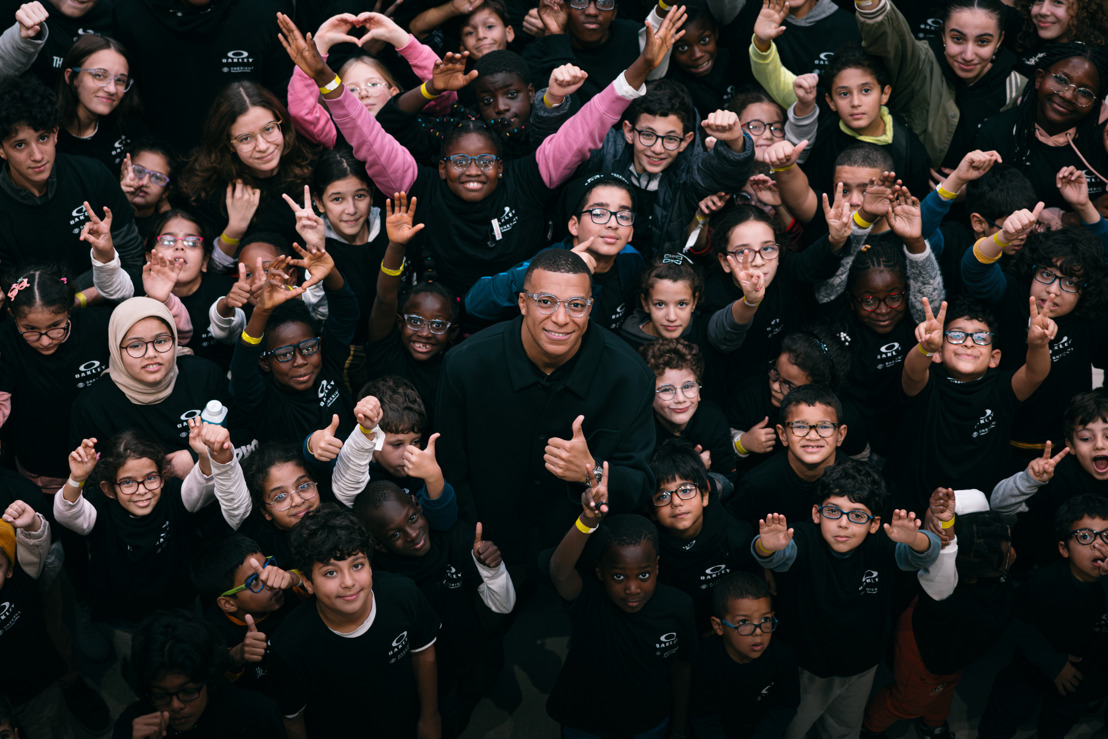 THE ONESIGHT ESSILORLUXOTTICA FOUNDATION PARTNERS WITH OAKLEY AND KYLIAN MBAPPÉ TO RAISE EYE CARE AWARENESS AMONG YOUNG FRANCILIANS
The event held in the Ile-De- France Region with over 100 children, instilling confidence on and off the field
Friday, November 3, 2023 — Oakley® and French football star, Kylian Mbappé, teamed up with OneSight (OneSight EssilorLuxottica Foundation) at Ile-De- France. Over 100 children from underprivileged background together with 20 young members from his IBKM association, attended the event at Les Pyramides in Mbappé's home of Île-de-France to support and inspire the next generation.
This event marks a goal set in the previous year to test 1,000 children coming from underprivileged community which has been achieved through the work of the clinics where they were able to access free clinical testing by professionals and were provided with corrective glasses and Oakley sunglasses.
In France, more than 100,000 under-privileged children lack proper eye examination and vision correction. The objective of the actions carried out by the Foundation with the support of Oakley and Kylian Mbappé is to minimize this figure and raise awareness among children about the importance of their visual health, on and off the field of play.
An afternoon with Kylian Mbappe and over one hundred children
As part of the programme children had prior access to a clinic providing attendees with leading global technology via eyecare exams, education and will receive Oakley prescription glasses and sunglasses. 
All the young participants had the opportunity to play sports with Kylian Mbappé and the youth from IBKM. The afternoon highlighted Kylian Mbappé's continued efforts to support the local youth community, a value he shares with Oakley and OneSight
"I am proud to be able to participate in these initiatives led by Oakley and the OneSight Foundation, helping young people to see better. Poor vision can be a hindrance to personal development and lead to withdrawal. I am confident that the work done today by Oakley and the OneSight EssilorLuxottica Foundation will help these children realize their potential and encourage them to continue working hard to achieve their dreams." - Kylian Mbappé
"We have a shared vision with Kylian to inspire kids all over the world to believe in themselves, so they can become whatever they dream to be. And without the gift of sight, those kids would never be able to fully develop their potential" said Caio Amato, Oakley Global Head of Marketing. "2.7 billion people around the world are affected by uncorrected poor vision. And that's not a number we can live with. Today's event here in Paris is just a reminder of our shared mission: we won't stop until all kids can see."
"We couldn't be more grateful for Oakley and Kylian Mbappé's commitments and collaboration on this Paris-based OneSight initiative. Over the last year and after the kick-off event with Inspired by KM association which took place in September 2022, the OSELF has reached 1,000 children tested, this is a significant step, we know more needs to be done. Under-privileged children in France still lack proper eye examination and vision correction as they don't benefit from the 100% Santé coverage. Through clinics and events like this one and the support of Oakley and Kylian Mbappé hope to one day bring that number to zero. We know that access to eye exams and glasses can be life-changing, especially for a child, and we are very appreciative of our partners, team and volunteers for providing these children with access to clear vision solutions." - Frédéric Corbasson, Senior Executive Director OSELF
Oakley and OneSight will continue to share the ongoing commitment to providing youth with prescription needs, on the field of play and off. This event is just one of the ways in which both organizations plan to support the next generation of athletes, together.
For more information on Kylian Mbappé and Oakley, please visit Oakley.com. More information on OneSight EssilorLuxottica Foundation can be found on onesight.essilorluxottica.com.