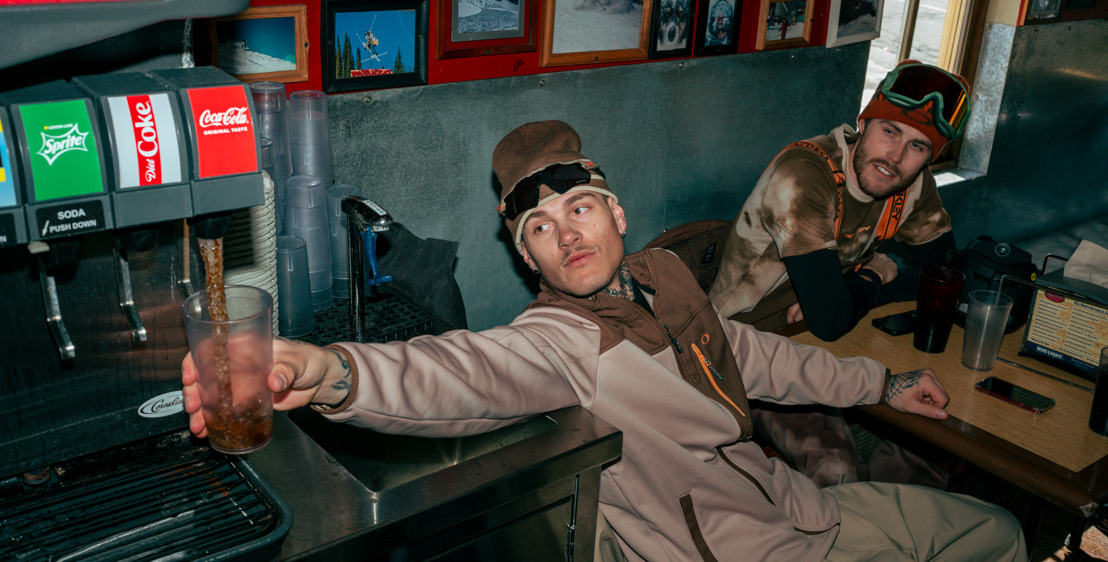 SHRED WITH THE OAKLEY® 2023 SNOW COLLECTION
THE LATEST KITS CO-DEVELOPED WITH TEAM OAKLEY'S WORLD-CLASS ATHLETES FUSES ART AND INNOVATION
Thursday, September 28, 2023 — Oakley®'s 2023 Snow Collection was created by combining the knowledge gained from years of producing snow-centric equipment fused with boundary-less creativity. With the world's top snow athletes bringing unmatched style and performance insights, this collection delivers next-level experience. The Signature Series Collections of Team Oakley athletes Mikaela Shiffrin, Aleksander Aamodt Kilde, Jamie Anderson, Sage Kotsenburg, and Ståle Sandbech were created by combining athlete insights, preferences, and style inspiration to deliver truly unique items.
In collaboration with our world-class athletes, the 2023 Snow apparel collection is designed to elevate cold weather comfort, performing in the most demanding of conditions. The latest fabric technologies, combined with modern silhouettes, feature-rich details, and daring styling, give this collection broad appeal for those pushing themselves in the mountains. Whether summiting peaks, lapping the park, or setting off in the back country, this line finds comfort in the extremes. Pieces from the apparel collection feature premium technologies such as Gore-tex and FNDRY™, OProtect, and Hydrofree DWR treatments all of which have been carefully selected with the intention of elevating the on-mountain experience by delivering performance, comfort and protection from the elements.
MIKAELA SHIFFRIN SIGNATURE SERIES
Bottom line: Mikaela Shiffrin is the GOAT. Shiffrin ended the conversation earlier this year by claiming her 87th World Cup victory, the most of all time. That's why we celebrated by releasing her own limited-edition Spindrift with 24K Gold lenses and her mantra written on the temple: "Always Be Faster Than The Boys" (A. B. F. T. T. B.).
As the most decorated skier of all time, it was only fitting that Mikaela Shiffrin's Flight Deck Snow Goggles be offered in two sizes to fit anyone who wants to be their best. With a color palette inspired by the Northern lights and a strap that displays a clean two-stack heat-transferred navy and purple Ellipse logo, this style is poised to change the game just like she has. Housed in a custom microbag featuring the goggle strap's artwork and Mikaela's signature, these goggles come equipped with Prizm™ Argon Iridium so you can make the most of what's ahead of you.
ALEKSANDER AAMODT KILDE SIGNATURE SERIES
Aleksander Aamodt Kilde, known for his steady yet dominating performances, continually rises to any occasion. Kilde is a three-time member of the Norwegian Olympic team with 1x Olympic silver and 1x Olympic bronze medals under his belt. His World Cup journey began in 2014, marking 21x World Cup wins, 1 FIS overall title, and 4 discipline titles over the past 9 years.
Kilde developed his signature Flight Path Goggles in partnership with Oakley and was inspired by the great Viking culture with feature symbols and imagery that pay homage to his Nordic ancestry. Perfectly matching his ARC5 Pro helmet in fit, performance, technology and style, the alpine skiing champion chose a forged iron paint with polished black outriggers for his goggle frame color, an additional homage to the equipment from his Scandinavian ancestors. Housed in a custom microbag with the strap's details and his signature, these goggles come equipped with Prizm™ Sapphire Iridium lenses that are ready to take you down on your best line.
JAMIE ANDERSON SIGNATURE SERIES
With 21 total X Games medals and three Olympic medals, Jamie Anderson has solidified herself as one of the most decorated snowboarders in the history of the sport. And her style off the slopes is as flawless as her style on it. While being a fearless on-snow competitor, Jamie has embraced life outside of the competitive lines as well, known to many as a free spirit who enjoys the beauty that nature has to offer wherever she roams.
Channeling her inner flower child with a tie-dye and snow leopard mixed design, Jamie created a breed of her own for the Signature Series Line Miner™ Goggles. Housed in a custom microbag with her initials and mantra, these goggles come equipped with Prizm™ Black Iridium lens to provide comfort and performance for days on the mountain. Her animal print and tie-dye collection is complete with a MOD5 helmet, Reduct shell jacket and pants, vest, hoodie, beanie, and mittens for any on-and-off-slope activity.
SAGE KOTSENBURG SIGNATURE SERIES
Sage Kotsenburg was raised in the mountains and learned to ride at an early age. So much so that he made his US Open debut at the age of 12. He quickly settled into the competition scene and won his first ever gold medal at the 2014 Sochi Olympics. While his career on the competitive scene was short lived his career certainly has not been. Sage made the decision to switch his focus to the backcountry and certainly has not looked back. He since has won Rider of the Year twice, he know trains the worlds top athletes on backcountry safety, and is constantly filming for his next big project.
Kotsenburg's unique and creative style led to the development of Signature Series Line Miner™ Goggles that reflect his personal style, made with a corduroy-like texture strap, vintage racing stripes, and Prizm™ Sage Gold Iridium lens equipped to tackle any light conditions. Kotsenburg's team collection finds inspiration in the past, looking to the jackets of the '90's, featuring design elements that were synonymous with that era. The collection includes a layering system for the long day ahead as well as shell pants, mittens, and beanie, created from sustainable fabrics and treatments. The outdoor-inspired color palette completes the collection with the MOD5 helmet in hunter green and matte black, completely redesigned to keep up with the endless pursuit of discovering more on the mountain.
STÅLE SANDBECH SIGNATURE SERIES
Ståle Sandbech only knows one way to ride: BIG. A four-time Olympic competitor who took home a silver medal at the 2014 Sochi Olympics for his home country of Norway, Sandbech's big air and slopestyle mastery have led to a full trophy case and a lasting legacy within the sport of snowboarding.
Ståle has been on a journey to mix eras, textures, and colors to create his Signature Series Line Miner™ Goggle, a goggle that would live up to his style. Featuring Prizm™ Torch Iridum created to maximize your day on the snow, no matter the conditions. His collection pieces perfectly blend high functionality, cloud-inspired camo look, and Oakley stretch logos for a unique and versatile look. Sandbech's collection is complete with all-mountain MOD3 helmet and high-performance apparel including outdoor gear that can handle any weather condition on the slopes.
The entire Oakley® 2023 Snow Collection will be available at Oakley's stores and on Oakley.com.