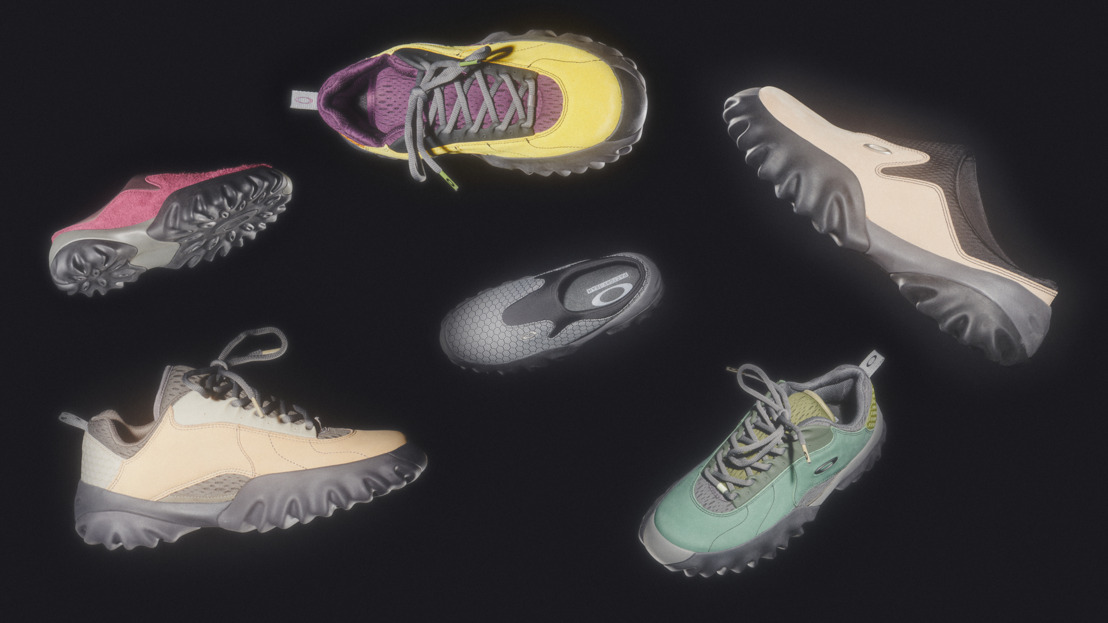 OAKLEY FACTORY TEAM REMIXES CHOP SAW AND CHOP SAW MULES FOR FW23
BRAIN DEAD AND OAKLEY JOIN FORCES ONCE AGAIN TO PRODUCE SIX NEW COLORWAYS FOR ICONIC FOOTWEAR TO FIT EVERY FALL FEELING
Monday, October 16, 2023 — Oakley Factory Team, the creative laboratory for conceptual design and experimentation led by Brain Dead, is back with six new colorway remixes of the iconic Chop Saw and Chop Saw Mule. This is the first in a series of new drops from the Oakley Factory Team for FW/23.
If you're feeling forest escapes, snow retreats with hot baths, a little nice sauna, foraging, or some city-heavy yet mountain-ready action, then the Nubuck Chop Saw in Duck Green / Thunderstorm is most definitely for you. Built with a smooth and sturdy duck green nubuck leather mixed with thunderstorm grey ellipsoidal mesh fabric and laces, an avocado Thermoplastic Polyurethane (TPU) back panel and contrasting tongue, this new colorway of the Oakley Factory Team Chop Saw celebrates unicity over conformism.
Cozy coffee binges, kombucha dreams, autumn leaves, Cairo-filtered Instagram stories, dark Ivy League, and post-preppy corduroys call for the Nubuck Chop Saw in Mocha. Blessed with a smooth and sturdy incense nubuck leather mixed with granite grey ellipsoidal mesh fabric material and laces, an island fossil Thermoplastic Polyurethane (TPU) back panel and eyelet plaque, the Oakley Factory Team Chop Saw is an exploration tool like unlike any other.
If you feel relaxed enough, consider the Nubuck Chop Saw Mules in Nomad. Featuring a unique padded neoprene collar allowing for non-isometric stretch that conforms to contours, lush materials for the upper and a prominent rich-black EVA rubber sole, this mule is another manifestation of the Oakley Factory Team avant-garde approach. Tough, durable, and yet supple, the Nomad Nubuck leather Chop Saw Mule Nomad stands in a category of its own. The desert leather's smooth texture mixed with the piquant green relief logo and the wavy black urethane sole boast this shoe with character and tangible intensity.
Black tie event? Look no further than the Nubuck Chop Saw Mule in Honeycomb black. Displaying a classy black weaved honeycomb Jacquard for its upper that draws inspiration from Oakley's first Kevlar® shoe texture, this design carries along cues of its lineage. Highly functional and nimble, this colorway strikes the perfect balance between fashion and function. Matching with silk tuxedo socks not required.
All colorwways from the first drop in this series will be available online at wearebraindead.com and Oakley.com starting on October 17 at 10PM PT. The collection can also be found in person at select Brain Dead locations worldwide and the following Oakley locations:
Oakley Fifth Avenue, NYC
Oakley Third Street Promenade, Santa Monica
Oakley Cadorna, Milan
Oakley Covent Garden, London
Oakley Shibuya, Tokyo
If you're thinking "Yes, all good, but I want extra!" we got you. Two insane color variations on the Chop Saw come straight from Brain Dead's design department: the hallucinogenic Lemon / Plum combo, and the crazy hairy-suede Mules in Wild Ginger / Coffee. Both will be available for purchase exclusively at wearebraindead.com.