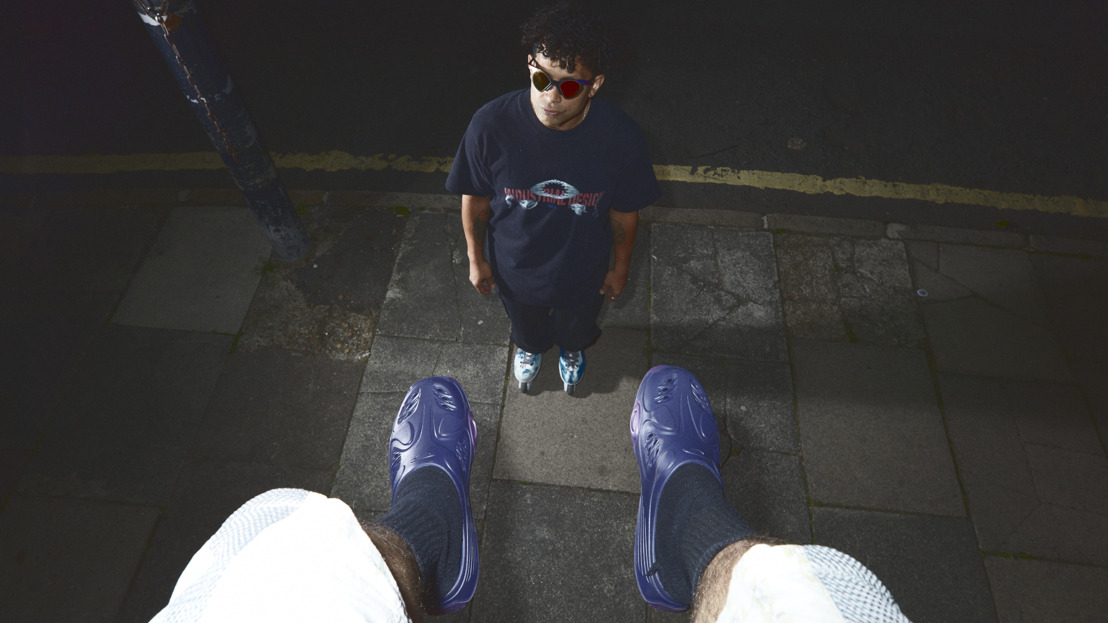 NEW EYEWEAR, FRESH COLORWAYS FOR PAGURO COLLECTION STAR IN SECOND FW23 DROP FROM OAKLEY® FACTORY TEAM
Thursday, November 2, 2023 — Oakley® Factory Team, the creative laboratory for conceptual design and experimentation led by Brain Dead, is back with new colorway edits of the iconic Paguro Slides and two new eyewear models.
For the second drop from the Oakley Factory Team for FW/23, Paguro slides go dark mode. Named after the crustaceans that evolved by migrating from one shell to another, the Paguro mules are housing your feet in a unique structure built from two different densities of injected Ethylene Vinyl Acetate (EVA) for lasting comfort and structure. Adorned with a bouncy and durable Thermoplastic Polyurethane (TPU) insert under your heel, these clogs are the expression of a cozy interior built inside a hollow chassis. The extra dense outsole material provides support and keeps a tight grip while exploring your environment.
Too much screen time calls for softer hues that go easy on our eyes. So, the occasion calls for a color palette that provides a comfortable viewing experience tailored for low-light environments. Enter the charming yet deep Blackberry/Evening, and the ultra-sleek Black/Ink. This doesn't mean you have to wear these in the dark, though. You are very welcome to show off this unique color combo whenever and wherever you want. The color palette makes this collection as comfortable a fit at the beach as it would be in front-row seats at Paris Fashion Week.
What we wouldn't suggest wearing at night are the two new eyewear models complete with a Brain Dead treatment: Eye Jacket™ and the Sub-Zero. With its orange-tinted polarized lenses and rounded frame graced with flames, the first gives a sort of late-90s hacker-meets-Mad Max energy, while the latter's clean-cut shape and technical details scream outdoor action but with a geeky, nerdy, smart twist.
First sold in 1992, Oakley's Sub Zero were introduced as a limited selection of next to nothing. Weighing in at 0.69 ounces, one could forget they were even wearing them. With Brain Dead at the helm, the idea was to celebrate a commonly cherished piece of eyewear by giving the frame an elaborate red and blue colorshift paint treatment that would unravel different hues as light would hit the frame. Along with the unique frame coating and its silver satin logo branding comes the Prizm™ Ruby lens technology that enhances color and contrast so you can see more detail. Within the lens, you can find Sub Zero's classic visual signature with the two orbital outlines etched as well as Brain Dead's logo featured over the right eyebrow.
Oakley Eye Jacket™ was first created as part of an ongoing mission to wrap science in art. The fluid lines of Eye Jacket™ combined with the dexterity of technology and the charisma of a sculptural frame brought to market something completely new and exciting to the mid-90s. Fast-forward a couple decades, bring Brain Dead into the fold and sprinkle in some sophisticated paint treatment to Oakley's iconic eyewear and you're now sitting in the front row to some imminent fireworks. Speaking of fire, the shifting hues of the red and blue colorshift paint on the frame can only be matched by the burning flames surrounding the satin silver ellipses adorning the chassis and the Brain Dead logo laser etched to the lens. Go ahead, enjoy the vividness of every moment with Prizm™ Ruby lens technology that enhances color and contrast so you can see more detail.
Both frames are delivered in a custom microbag and box sleeve that will keep them safe and sound. Still not enough? Okay, we got more.
If you are wearing one of our new sunglasses at night and can't find your Paguro slides in the absolute dark, don't worry because we have just the thing: the Brain Dead x Oakley Factory Team collaboration comes in a slightly lighter colorway: Rust. Good for Fall, good for Winter, good for dark, and bright.
The Paguro slides — both Factory Team and Brain Dead colorways — as well as Eye Jacket™ and Sub Zero Brain Dead eyewear will be available on November 7th at 10AM PT on WEAREBRAINDEAD.COM, Brain Dead Studios Fairfax, Brain Dead Studios Sunset, Oakley.com and selected stockists. Stay tuned to @wearebraindead, @oakley and @factoryteamproject for all the latest and greatest.